request for you :)

from dear Cris - from dear Inge

Today we celebrate the international woman's day.
So therefor I want to send a little gift to you proud woman.
We are mothers, daughters, sisters, "moms" to our animals,
and we take care of our family, our home, our garden, our work,
and often much more than that. In many countries a woman are
treated like a criminal, with no rights at all, and struggle to survive.
Most of us live a free life, and can enjoy life, so also send a little thought
to our sisters in the world who have a hard life just for being a woman.
So be proud today, to be a woman.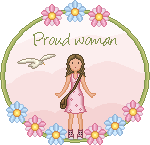 thank you Susan